Like a high school prom, one would expect the most popular couple to be crowned the "king" and "queen" of the prom night. For the Malaysian Club Deutschland (MCD), the Malaysia Ball 2015 held on 17th October was not only its largest event ever organised but the first with a strong partnership with the Consulate-General of Malaysia in Frankfurt, Tourism Malaysia Frankfurt, Johor State Government, Yayasan Warisan Johor (Johor Heritage Foundation) and Johor Tourism Board.
In addition, this event was also an appreciation to the "Star of the Night" – Dato Chef Ismail Ahmad, MCD's "Ambassador to Malaysia" – who has tirelessly for the last 8 years cooked and entertained our members, friends and guests. The close relationship between Dato Chef Ismail and MCD was further strengthened when the club president Rosita Rahman-Heilek "crowned" Dato Chef Ismail the official MCD Chef that night in front of the Malaysian Ambassador to Germany Dato Zulkifli Adnan, Deputy Speaker Johor Legislative Assembly Dato' Haji Baderi Dasuki, Consular-General of Malaysia in Frankfurt Dr. Adina Kamaruddin and other distinguished guests.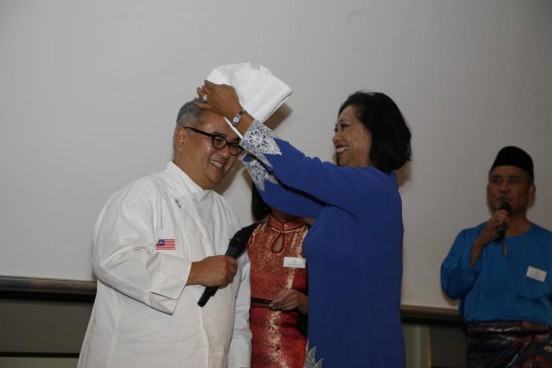 Club president Rosita-Heilek "crowned" Dato Chef Ismail Ahmad the official MCD Chef.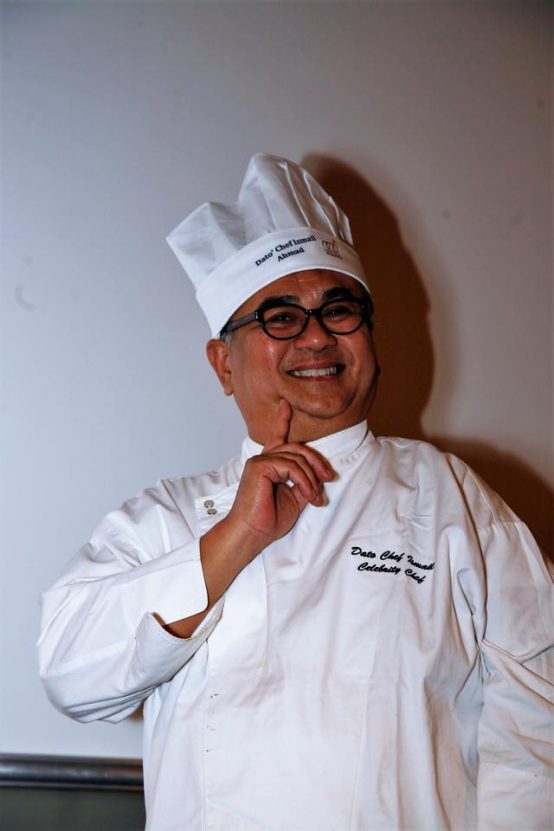 The kingly pose of the official Chef of Malaysian Club Deutschland
Burung kutilang burung bangau
Paluan gendang jiwa gurindam
Walau jauh Frankfurt dari Rembau
Masakan Chef tetap diidam
Photo credits: Malaysian Club Deutschland
Pantun (Malay poem): Jimmy Low