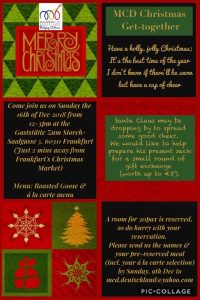 The MCD Christmas celebration is planned to take place again this year.
Here are the details:
Date
16th Dec. 2018 (Sunday)
Time
12:00 – 15:00
Venue
Gaststätte Zum Storch
Saalgasse 5, 60311 Frankfurt am Main
Available public transports:
Station: Dom/Römer
with U4, U5, trams 11 and 12
Main menu:
Roasted goose and á la carte (please refer the PDF files below (Menükarte A and Menükarte B)
Reservation:
For reservation, at the latest by Sunday 9th Dec. 2018.
Please kindly send an e-mail to mcd.deutschland@yahoo.com, including the names and pre-reserved meal of the named guests.
Trivial:
A small round of gift exchange will take place. You may bring a small gift worth NO more than € 8.
Menu cards: