Dear Members and Friends of the Malaysian Club Deutschland,
In 2017, and with a sense of pride, MCD is looking back at 20 years of its establishment. At the same token, Malaysia's Independence returns for the 60th time, and so do the diplomatic relationships between Germany and Malaysia.
There are hence reasons enough to proudly announce our 20th Anniversary Dinner. The event, which is co-organised by MCD and the Consulate General of Malaysia in Frankfurt, is going to be held on 02 September 2017 at the MCD's most regular Gala venue, the Marriott Hotel in Frankfurt am Main. As in the years before, Chef Dato' Ismail will once again grace the event with his presence, and evenly important, with his culinary excellence. Further details can be found in the attached flyer.
Thank you so much to those of you who already made sure they will be part of our great 20th Anniversary Dinner.

For everyone else:
RESERVATIONS ARE OPEN AS FROM NOW ON.
Please use the attached reservation form to ensure you get your ticket to a great Gala event.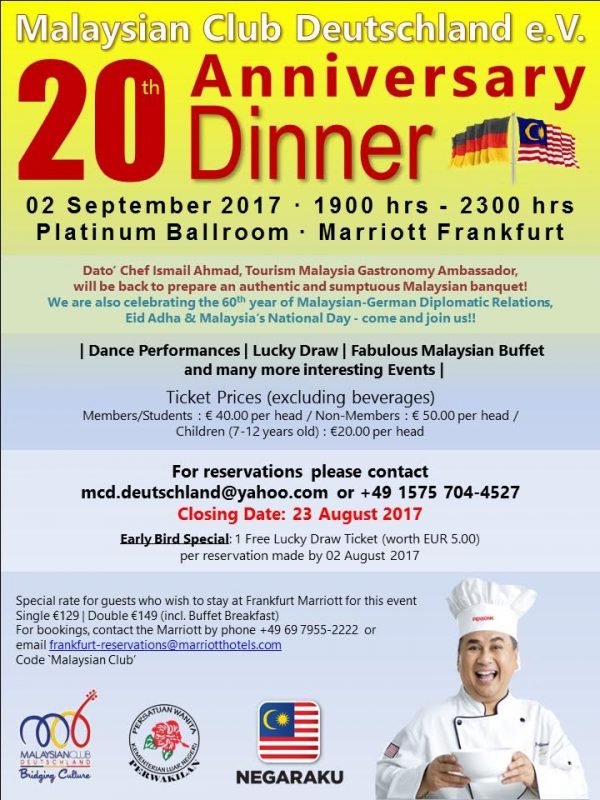 Should you have any further questions, perhaps suggestions or memories to share of the past 20 years of MCD, please let us know by mail or phone.
We are sincerely looking forward to celebrating an outstanding event, together with you, your friends and guests.
Flyer – Flyer GALA 2017
Registration Form – 2017-05-15 Gala Reservation Form