Malaysia Club of Berlin (MCB)
Last Sunday, our sister club Malaysia Club of Berlin (MCB) held its annual general meeting and election of its new executive committee (Exco) at the Malaysian Embassy in Berlin. The Patron, Exco and members of MCD extend our warmest congratulations to the new Exco and its members and looking forward to a cordial networking and cooperation in supporting and expanding both communities in Berlin and Frankfurt region.
The newly elected Executive Committee Members are as follows:
President: Mrs. Ita Hellmuth
Vice President: Mrs. Zubaidah Aziz-Lembke
Secretary: Ms. Sabrina Lee Lin Lin
Treasurer: Mrs. Mary Evers
Committee Members:
Ms. Hazel Hoo-Herzog
Mrs. Wendy Rohrbacher
Mr. William Toong Chon Kong
Mr. Tan Keat Aun
Auditors:
Mr. Azman Roslee Anuar
Mr. Chuah Cheng Hooi
Malaysian Ambassador to Germany, Dato Zulkifli Adnan is the club patron.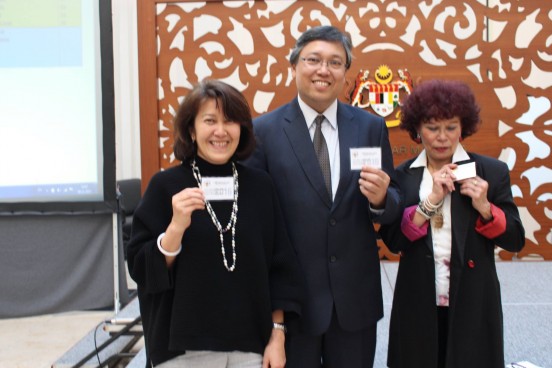 Ambassador Dato Zulkifli Adnan and wife Datin Siti Hawa Othman received their MCB membership card 001 and 002 respectively from incoming club president Ita Hellmuth.

The next MCB Exco: (front, L-R): Hazel Hoo, Zubaidah Aziz, Dato Zulkifli Adnan, Ita Hellmuth, Mary Evers.
(back, L-R): Keat Aun, William Toong, Wendy Rohrbacher, Sabrina Lee, Azman Roslee, Cheng Hooi
For more information about Malaysia Club of Berlin (MCB), "like" their Facebook group.
Photo credits: Malaysia Club of Berlin